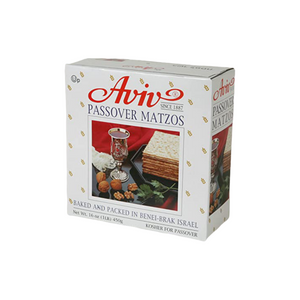 Aviv Passover Matzos
$1299

$12.99
Tax included.
Shipping
calculated at checkout.
---
---
Passover Matzos is a cracker-like flatbread made of white plain flour and water.  Similar in preparation to the  Asian lavash and the Indian chapati, it is often used as a bread substitute.
Matza (also Matzah, Matzoh, or Matsah, Hebrew: מַצָּה, in Ashkenazi matzo or matzoh, and, in Yiddish, matze) is a cracker-like flatbread, made by pricking the dough in several places and then not allowing it to rise before or during baking, which produces a hard, flat bread.
Matza is used as the substitute for bread during the Jewish holiday of Passover, when eating chametz—bread and leavened products—is forbidden. Eating matza on the night of the seder is considered a positive mitzvah, i.e., a commandment. In the context of the Passover seder meal, certain restrictions additional to the chametz prohibitions are to be met for the matza to be considered "mitzva matza", that is, matza that meets the requirements of the positive commandment to eat matza at the seder.
It is traditional for Christian families to eat matzo at Easter.
Product of Israel
---
We Also Recommend